The Department of Genome Sciences is committed to creating an environment that is welcoming and inclusive. Our goal is to foster a place of learning and working where all members can thrive and where diversity is recognized and celebrated. At Genome Sciences, we aim to create supportive spaces for those who are marginalized in higher education or society. To achieve this, we recognize that it is our ongoing responsibility to understand, acknowledge, and challenge systems of privilege and disadvantage in higher education such as those based on race, color, creed, caste, religion, national origin, citizenship, sex, age, marital status, sexual orientation, gender identity or expression, disability, veteran status, or socioeconomic status.
UW Genome Sciences has an outstanding opportunity for a full-time faculty position at the rank of ASSISTANT PROFESSOR, tenure-track. The successful candidate will be expected to establish an active research program and engage in teaching and service. This is a 12 month, multi-year appointment with an anticipated start date of September, 2021. Apply on Interfolio: https://apply.interfolio.com/79895

Genome Sciences is pleased to announce that Dr. Alison Feder has accepted our offer to be an assistant professor and will join the department in 2021. Dr. Feder is currently a Miller Fellow at the University of California, Berkeley. She is a mathematical biologist who studies evolutionary forces that drive rapid adaptation, such as that seen in viruses becoming resistant to drugs.

Genome Sciences is pleased to announce that Dr. Devin Schweppe has accepted our offer to be an assistant professor and has joined our department. Dr. Schweppe comes to Genome Sciences from the lab of Dr. Steven Gygi at Harvard Medical School, where he was a postdoctoral fellow. Dr. Schweppe develops proteomics methods to analyze dynamic cellular signaling networks.
Introducing the Genome Sciences 2020 incoming class:
Leah Anderson – Ohio State University
Gabrielle Ferra – Brown University
Lincoln Harris – Swarthmore College
Chris Hsu – University of Washington
Aidan Keith – University of Washington
Tony Li – Johns Hopkins University
Chris McGann – Northeastern University
Alexis Neuman – Western Washington University
Luana Paleologu – University of Washington
Taylor Real – UC Santa Cruz
Elena Romero – Harvey Mudd College
Abbey Thorpe – George Washington University
Cassia Wagner – UW MSTP

Former Shendure Lab member
Dr. Junyue Cao
is the grand prize winner of the
2020 Science & SciLifeLab Prize for Young Scientists
.
Drs. David Baker, Michael Bamshad, Evan Eichler, Choli Lee, Debbie Nickerson, Bill Noble, Jay Shendure, John Stamatoyannopoulos, and Cole Trapnell
have been named on the
Highly Cited Researchers 2020
list from Clarivate.

Brain and spine fluid proteomics may hold Alzheimer's clues
UW Medicine

90 Days on the Front Line: How UW Medicine led the response to the nation's first COVID-19 outbreak
UW Medicine


NIH-funded center to study nucleome in time and space
UW Medicine Newsroom


The
2020 Parker Travel Award winners
for best poster at the
2020 department retreat
are
Pengyao Jiang
and
Kyle Hess
.


Former Genome Sciences members
Dr. Katrina Claw
and
Dr. Jie Liu
have received
2020 Genomic Innovator Awards from the NHGRI
.

Nick Popp
has been awarded an NRSA Fellowship.


Dr. Mary-Claire King
and
Dr. Peter Byers
have received
awards from the ASHG
.

Dr. Junhong Choi
has been awarded a
Damon Runyan Fellowship
.

Danielle Faivre
and
Deanna Plubell
have been awarded NRSA Fellowships.

Chengxiang Qiu
has been awarded the
Bonita and David Brewer Fellowship
.

250,000 people now follow this Fred Hutch scientist on Twitter
Dr. Trevor Bedford's
research is featured in the Seattle Times.

Dr. PingHsun Hsieh
has been awarded a K99 Career Transition Award.

Eliza Barkan
has been awarded an NSF Fellowship.
Conor Camplisson, Luana Paleologu, and Zorian Thornton
have received honorable mention.

Coronavirus May Have Spread in U.S. for Weeks, Gene Sequencing Suggests
Dr. Trevor Bedford's
research is featured in the NY Times
.


Gesine Cauer
and
Dr. Andrew Savinov
have been awarded NRSA fellowships.

Dr. Jay Shendure
has been named
The 2020 Leaders in Health Care Gold Award Winner for Achievement in Medical Research
by Seattle Business magazine.

GSAIMS
has been awarded a Diversity and Inclusion Seed Grant from the University of Washington and is excited for their new upcoming events.
Technologies to watch in 2020: Dr. Elhanan Borenstein

and former GS grad

Dr. Alex Nord

are featured in Nature article.

Dr. Harmit Malik

and

Dr. Ray Monnat

have been named AAAS fellows.

Kate Dusenbury and Will DeWitt
have been awarded NRSA fellowships from the NIAID.

Dr. Glennis Logsdon

has been awarded an NRSA fellowship from the NIH.


Dr. Stella Huang

and

Rebecca Martin

have been awarded the

Parker Travel Award

for best poster at the department retreat.
Introducing the Genome Sciences 2019 incoming graduate class:
Anna Bakhtina, University of Washington
Conor Camplisson, Cal Poly San Luis Obispo
Madeleine Duran, MIT
Austin Gabel, UW MSTP
Xavi Guitart, Vanderbilt University
Kianna Hales, University of Washington
Morgan Hamm, University of Washington
Lilian Heil, University of North Carolina
Maya Lewinsohn, UW MSTP
Sophie Moggridge, University of Victoria
Sriram Pendyala, UW MSTP
Zorian Thornton, Virginia Tech
Wei Yang, UCLA

Ashley Hall has been awarded an NRSA fellowship from the NIH.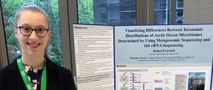 High school intern

Jenna Everard

took first place in the Bio Expo, lab research category. Jenna was mentored by

Brook Nunn, Emma Timmins-Schiffman, and Andy Lin.



Robin Aguilar, Phoebe Parrish, and Sam Smukowski
have been awarded
NSF fellowships
.
Genome Sciences Travel Award winners
In our first application cycle, the Department has funded travel awards to 3 graduate students – Melissa Chiasson, Claudia Espinoza and Colby Samstag – and one postdoc, Jed Carlson. The awards are funded by income to the Department from endowments established by Genome Sciences faculty and are to encourage professional development.