Thursday, December 5
Dissertation Defense: Colby Samstag (Pallanck Lab, Ph.D. in Molecular & Cellular Biology)
"Is there selection against somatic mitochondrial DNA mutations?"
1:00, Foege Auditorium | flier
For a complete listing of GS events, please see the events calendar.


Genome Sciences is pleased to announce that Dr. Devin Schweppe has accepted our offer to be an assistant professor and will join our department in 2020. Dr. Schweppe is currently a postdoctoral fellow in the lab of Dr. Steven Gygi at Harvard Medical School. Dr. Schweppe will develop proteomics methods to analyze dynamic cellular signaling networks.

Glennis Logsdon

has been awarded an NRSA fellowship from the NIH.


Stella Huang

and

Rebecca Martin

have been awarded the

Parker Travel Award

for best poster at the department retreat.
Introducing the Genome Sciences 2019 incoming graduate class:
Anna Bakhtina, University of Washington
Conor Camplisson, Cal Poly San Luis Obispo
Phillip Chu, Northwestern University
Madeleine Duran, MIT
Austin Gabel, UW MSTP
Xavi Guitart, Vanderbilt University
Kianna Hales, University of Washington
Morgan Hamm, University of Washington
Lilian Heil, University of North Carolina
Maya Lewinsohn, UW MSTP
Sophie Moggridge, University of Victoria
Sriram Pendyala, UW MSTP
Zorian Thornton, Virginia Tech
Wei Yang, UCLA

Ashley Hall has been awarded an NRSA fellowship from the NIH.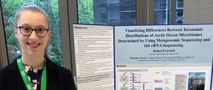 High school intern

Jenna Everard

took first place in the Bio Expo, lab research category. Jenna was mentored by

Brook Nunn, Emma Timmins-Schiffman, and Andy Lin.



Robin Aguilar, Phoebe Parrish, and Sam Smukowski
have been awarded
NSF fellowships
.
Genome Sciences Travel Award winners
In our first application cycle, the Department has funded travel awards to 3 graduate students – Melissa Chiasson, Claudia Espinoza and Colby Samstag – and one postdoc, Jed Carlson. The awards are funded by income to the Department from endowments established by Genome Sciences faculty and are to encourage professional development.
2018 Highly Cited Researchers list from Clarivate Analytics includes

Drs. Evan Eichler, Deborah Nickerson, William Noble, Jay Shendure, John Stamatoyannopoulos, Cole Trapnell, and former GS grad Aaron McKenna.

Junyue Cao has been awarded the 2018 Verna Chapman Young Scientist Award from the International Mammalian Genome Society.

Nick Hasle

has been awarded an F30 to support his thesis project "Dissecting the role of PTEN in human disease by testing the effects of thousands of variants on multiple cellular phenotypes".


Arvis Sulovari and 

Bryan Andrews

 have been awarded the Parker Travel Award for best poster at the department retreat.


Aaron McKenna, Tychele Turner, and Damien Wilburn

have been awarded

K99 Career Transition Awards.