Faculty Position Available
The Department of Genome Sciences is seeking applications for 1 full-time faculty position at the rank of Assistant Professor, tenure-track.

Wednesday, December 6
Combi Seminar: Dr. Guanghao Qi | University of Washington
"Understanding the genetics of human traits through statistical integration of genetic and genomic data"
1:30 | Foege Auditorium | remote viewing option | flier | talk will be recorded

Wednesday, December 6
Genome Sciences Seminar: Dr. Nels Elde | University of Utah | FHCC alum
"Evolutionary Infection Biology"
3:30 | Foege Auditorium | remote viewing option | flier | talk will be recorded

Tuesday, December 12
Dissertation Defense: Sayeh Gorjifard | Queitsch / Cuperus Lab, Ph.D. in Genome Sciences
"Transcript cleavage and polyadenylation in plants"
10:30 | Foege Auditorium | remote viewing option | flier


Genome Sciences is pleased to announce that Dr. Nobuhiko Hamazaki has accepted an offer to be a joint faculty member in Genome Sciences, Ob-Gyn, and ISCRM, based in the South Lake Union campus in Ob-Gyn research space. He was a graduate student at Kyoto University, and a postdoctoral fellow at Kyushu University, where he worked to establish a method to induce oocytes from mouse pluripotent stem cells entirely in vitro. He then worked with Jay Shendure in Genome Sciences on stem cell-derived human gastruloids. Dr. Hamazaki's research lies at the interface of peri-implantation embryonic development; reproductive biology; stem cell engineering; and genomic technology.

Genome Sciences is pleased to announce that Dr. Chia-Lin Wei from the Jackson Laboratory has accepted our offer to be a professor in the department and director of the Northwest Genomics Center beginning this fall. Dr. Wei's research program includes the development and optimization of new genomic technologies and the analysis of chromatin structure. Dr. Wei has built and directed three large-scale sequencing centers, at the Genome Institute of Singapore, the Joint Genome Institute and the Jackson Laboratory.

Genome Sciences Education Outreach
has been awarded the
Silver Medal Award at the International Serious Play Conference
for the
Blood Sugar Balance webgame
. Blood Sugar Balance offers an engaging educational experience focusing on glucose metabolism and its role in type 2 diabetes.


Shawn Fayer
and
Renee Geck
have been awarded
Parker Travel Awards
for best poster at the 2023 department retreat.
Genome Sciences awarded three
Well-Being Grants
to support the GS Garden Club Expansion, GS Hackathon, and Let's have an awesome time doing science symposium.

Curran Oi
has been awarded an
NRSA Fellowship
.

Maitreya Dunham
has been awarded the
Ira Herskowitz Award
from the Genetics Society of America.

Andrew Mullen
has been awarded an
NRSA Fellowship
.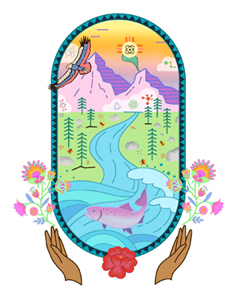 Robin Aguilar
has been selected as the artist for the
2023 SACNAS conference
.

Syd Sattler
has been awarded a
Curci Fellowship
.

Junhong Choi
has received an
NIH K99/R00: Pathway to Independence Award
.

Haedong Kim
has been awarded a
2023 WRF Postdoctoral Fellowship
.

Andrew Stergachis
has been named to the
Puget Sound Business Journal 40 under 40
list and was awarded a young-physician scientist award from the
American Society for Clinical Investigation
.

Nick Lammers
has been awarded a
Damon Runyon Cancer Research Foundation Quantitative Biology Fellowship
.
Introducing the Genome Sciences 2023 incoming class:
Zachary Amador, UC Riverside
Matthew Chaw, Franklin & Marshall College
Hank Cheng, UW MSTP
Marazzano Colon, Duke University
Catherine Daniel, University of Texas, Arlington
Sanjay Kottapalli, Johns Hopkins University, Weill Cornell
Evan McDermot, University of Kansas
Abby McGee, MIT
Sean Perez, Pomona College
Rachel Powell, Iowa State University
Olivia Waltner, Whitman College
Riku Yasutomi, UW MSTP



Connor Kubo
and
Lizzie Plender
have been awarded
NSF Fellowships
.
Syd Sattler
has received honorable mention.

Bill Noble
has been inducted into the 2023 Class of the
AIMBE College of Fellows
.


Chris McGann, Miranda Mudge, and Elena Romero
have been named the 2023
Sonia Ting Travel Award
recipients.
More News