The Department of Genome Sciences is committed to creating an environment that is welcoming and inclusive. Our goal is to foster a place of learning and working where all members can thrive and where diversity is recognized and celebrated. At Genome Sciences, we aim to create supportive spaces for those who are marginalized in higher education or society. To achieve this, we recognize that it is our ongoing responsibility to understand, acknowledge, and challenge systems of privilege and disadvantage in higher education such as those based on race, color, creed, caste, religion, national origin, citizenship, sex, age, marital status, sexual orientation, gender identity or expression, disability, veteran status, or socioeconomic status.

Friday, June 9
Dissertation Defense: Gesine Cauer | Noble Lab, Ph.D. in Genome Sciences
"Inferring whole-genome 3D chromatin structures from diploid Hi-C data"
2:00 | Foege Auditorium | remote viewing option | flier

Thursday, June 15
Dissertation Defense: Lilian Heil | MacCoss Lab, Ph.D. in Genome Sciences
"Systematic Data Acquisition and Analysis Strategies for Quantitative Proteomics"
9:30 | Foege Auditorium | remote viewing option | flier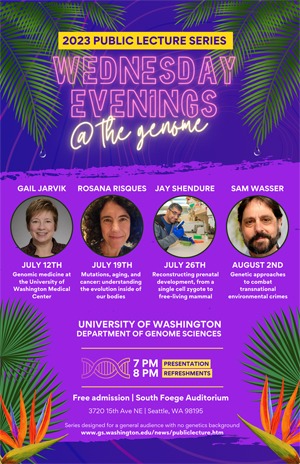 Public Lecture Series
July 12, July 19, July 26, August 2
7:00 pm | Foege Auditorium

Genome Sciences is pleased to announce that
Dr. Philip Abitua
has accepted our offer to be an assistant professor and has joined our department. Dr. Abitua is a developmental biologist studying annual killifish and how they've evolved to survive in extreme environments. In addition to deep knowledge of early vertebrate development, Dr. Abitua will bring cutting edge techniques into the department, such as single-cell analysis with live imaging of whole embryos.

Genome Sciences is pleased to announce that
Dr. Lea Starita
has accepted our offer to be an assistant professor and has joined our department. Dr. Starita develops and applies advanced genomic technologies for interpreting genetic variants of unknown significance. She also serves as the co-director of The Brotman Baty Institute's Advanced Technology Lab and is a key member of the Seattle Flu Study.

The Herschel and Caryl Roman Undergraduate Science Scholarship
provides financial assistance to deserving undergraduates at the University of Washington who have an interest in genetics research. The application deadline is July 1.

Junhong Choi
has received an
NIH K99/R00: Pathway to Independence Award
.

Haedong Kim
has been awarded a
2023 WRF Postdoctoral Fellowship
.

Andrew Stergachis
has been named to the
Puget Sound Business Journal 40 under 40
list and was awarded a young-physician scientist award from the
American Society for Clinical Investigation
.

Nick Lammers
has been awarded a
Damon Runyon Cancer Research Foundation Quantitative Biology Fellowship
.
Introducing the Genome Sciences 2023 incoming class:

Zachary Amador, UC Riverside
Matthew Chaw, Franklin & Marshall College
Hank Cheng, UW MSTP
Marazzano Colon, Duke University
Catherine Daniel, University of Texas, Arlington
Sanjay Kottapalli, Johns Hopkins University, Weill Cornell
Evan McDermot, University of Kansas
Abby McGee, MIT
Sean Perez, Pomona College
Rachel Powell, Iowa State University
Olivia Waltner, Whitman College
Riku Yasutomi, UW MSTP




Connor Kubo
and
Lizzie Plender
have been awarded
NSF Fellowships
.
Syd Sattler
has received honorable mention.

Bill Noble
has been inducted into the 2023 Class of the
AIMBE College of Fellows
.


Chris McGann, Miranda Mudge, and Elena Romero have been named the 2023 Sonia Ting Travel Award recipients.


Chase Suiter and Lincoln Harris
have been awarded NRSA Fellowships.
Former Eichler Lab postdoctoral trainees
Tianyun Wang
and
Tychele Turner
have been named to
Spectrum's 40 under 40
list of researchers working on autism-related science.

Anna Bakhtina
has been awarded a Predoctoral Fellowship from the
American Heart Association
.

Renee Geck
has been awarded a
Mistletoe Research Fellowship
.
David Baker, Jay Shendure, Cole Trapnell, Riza Daza, Bill Noble, Evan Eichler, and Debbie Nickerson
have been named to the 2022
Highly Cited Researchers
list from Clarivate.


Dr. Alison Feder
and
Dr. Gavin Ha
have received
NIH New Innovator Awards
.

Dr. Jay Shendure
has been named the
2022 UW Medicine Inventor of the Year
.

Dr. Mary-Claire King
has been named a
Citation Laureate by Clarivate
.
More News