2023 Public Lecture Series
The UW Department of Genome Sciences played an important role in determining the sequence of the 3 billion letters of DNA specifying all of our hereditary information and is now one of the leading centers where the human genome is being interpreted and where new technologies for this analysis are being developed.
To share these advances with the public the Department of Genome Sciences hosts a 'Wednesday Evenings at the Genome' public lecture series each summer. These exciting discussions assume no background knowledge in genetics or other biological subjects and provide opportunities to chat with our presenters. Admission is free.
All lectures take place at 7:00 p.m. in Foege Auditorium. | remote viewing option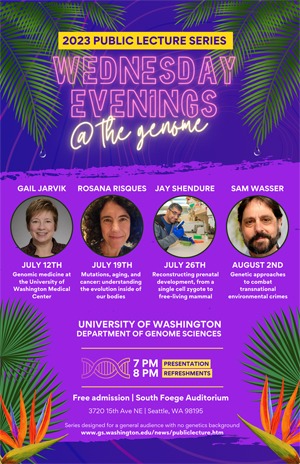 July 12: Gail Jarvik
"Genomic medicine at the University of Washington Medical Center"
session recording

July 19: Rosana Risques
"Mutations, aging, and cancer: understanding the evolution inside of our bodies"
session recording

July 26: Jay Shendure
"Reconstructing prenatal development, from a single cell zygote to a free-living mammal"
session recording

August 2: Sam Wasser
"Genetic approaches to combat transnational environmental crimes"
session recording
.
Past lecture series
2022 | 2021 | 2019 | 2018 | 2017 | 2016 | 2015 | 2014 | 2013 | 2012 | 2011 | 2010 | 2009 | 2008 | 2007