Clubs, Organizations, and Events
These activities are open to all interested members of the department.
Faculty-Led Outings
Starting in Spring 2022, our faculty have led outings, including bird watching and bike rides, in and around Seattle. These typically take place on Saturday or Sunday and all are welcome to participate. These are posted to the GS events calendar as scheduled.
The Genomics Salon is a place for interdisciplinary discussion of science and society at University of Washington and typically has monthly events during the academic year.

Genome Sciences Association for the Inclusion of Minority Students (GSAIMS) is a group of graduate students and postdoctoral scholars interested in expanding the spaces and support for underrepresented minorities (URM) in the Department of Genome Sciences at the University of Washington. We aim to provide peer support, mentorship, and guidance to aid individuals as they transition and navigate through their graduate and professional careers. We seek to provide opportunities for students to participate in events that will allow for inclusive and intersectional dialogue for all participants. GSAIMS aspires to provide a closer connection to more diverse student organizations within UW and outreach opportunities in Seattle. ​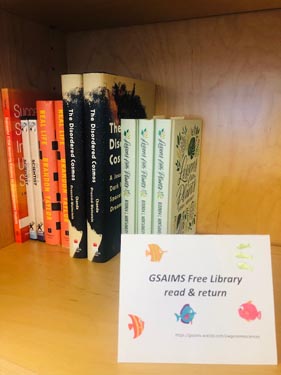 GSAIMS Free Library located in Foege S340. Read and return.
GS Book Club
The GS Book Club is open to all department members and their family. We read one standalone book every two months, picked by a book club member.
The books can be of any topic and genre. Currently we meet on Zoom (https://washington.zoom.us/j/965864904), and have a mailing list in Google Groups (https://groups.google.com/g/uw-gs-book-club,
uw-gs-book-club@googlegroups.com). We also have a list of books we have previously read
(https://docs.google.com/spreadsheets/d/10014xh9hIfpWzhEI6ZZoOAEr4AC_xVNz5mPxKDJTI5o/edit?usp=sharing) and a calendar for our meetings (https://calendar.google.com/calendar/embed?src=ss1k4f6247v8lvali869tn3sto%40group.calendar.google.com&ctz=America%2FLos_Angeles).
Contact: Skylar Thompson ( skylar2 [ a t ] uw.edu )
GS Community Lunches & Life Stories
Come meet other GS folks! We get together via Zoom every Monday except holidays. Enjoy some social time while building our community and expanding your network. Everyone is welcome--undergrads, grad students, postdocs, staff, faculty, affiliates. We talk about everything from the daily ups and downs of our lives to complex topics like diversity and inclusion. You're welcome to ask questions, tell us about your weekend, or propose a conversation topic--or just sit in and listen.

We also listen to life stories when someone's feeling inspired. We'd love to hear yours! Contact Serena Newhall at serenn2 [ a t ] uw.edu with your preferred Monday to share your story.
GS DEI Book Club
The GS Diversity, Equity, and Inclusion (DEI) Book Club meets every other Thursday via Zoom from 12:30 to 1:30 pm to discuss books, articles, podcasts, videos, and other media related to diversity, equity, inclusion topics. Here's our scheduled DEI Reading List and Brainstorming document. Anyone is welcome to attend, suggest a topic, and host a discussion.
We grow flowers and edibles in three beds next to our building at the south end of 15th Ave NE as well as on the 4th floor deck. Join the fun! No experience needed!
Contacts: Beth Hammermeister ( bethh [ a t ] uw.edu ) and Lisa Border ( lborder [ a t ] uw.edu)
Held Fridays after Research Reports. All are welcome! Social hour will be facilitated by the admin group.
The Women in Genome Sciences (WiGS) organization was created in order to establish an environment supportive of women in Genome Sciences. Our primary mission is to address issues particularly relevant to women in the department. These issues include, but are not limited to recruitment of graduate students and faculty, attrition of women from academic science, navigation of an academic career with a family, and development of a department friendly to women.
Foege Building Art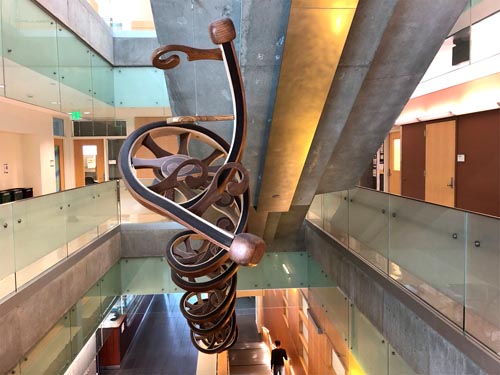 Double Helix
by James Mhyre
Jim is a graduate of the University of Washington, Department of Chemistry, and the University of Washington, School of Medicine. After his retirement from Evergreen Hospital in Kirkland where he worked as a General Surgeon, Jim created his very first sculpture, entitled Double Helix, which he donated to Genome Sciences in 2015.
DNA occupies the central position in biology.  This sculpture is an artistic representation of DNA meant to capture the imagination and inspire those who understand its subject matter.   The double helix form grabs the eyes demanding attention.  The four nucleotides are depicted in padauk, Peruvian walnut, leopard wood, and zebra wood.   They are made with a clasping theme suggestive of the Yin Yang symbol using a maple strip joining the two sides.  There are 31 pairs in the sculpture that makes four revolutions.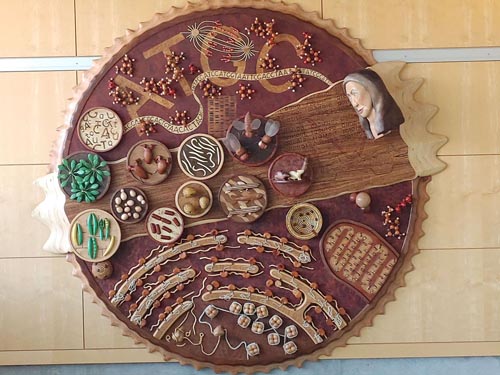 Genomic Journey
by James Mhyre

The upper panel is an abstract mashup of biological information, both DNA and RNA and a cell in mitosis. The smaller molecules depict different nucleotides. Genetic information spills into the middle panel and is represented as digital code, 0's and 1's.

The middle panel contains 10 circles representing the most common genetic model organsisms used for research starting with Mendel's peas on the left, thale cress, yeast, E. coli, frog, protozoa, worm, zebra fish, fruit fly, and mouse. The human figure represents humans studying the biological processes before us. The back of her head is open, exposing her occipital lobes and cerebellum, emphasizing that we too are the biology that we are studying.

The lower panel depicts the central dogma of biochemistry, translating DNA into proteins. DNA is unwound and copied by the RNA polymerase into messenger RNA. It is then modified and leaves the nucleus for the endoplasmic reticulum where it is read by the ribosomes to produce the encoded proteins. Also in the lower panel is a mitochondria, the cellular powerhouse, and a molecule of Adenosine Triphosphate (ATP), the currency of cellular energy.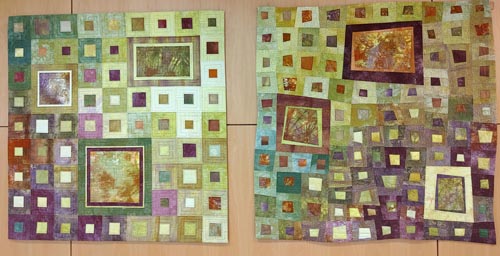 Plum Tango
by Bonny Brewer and Janet Kurjan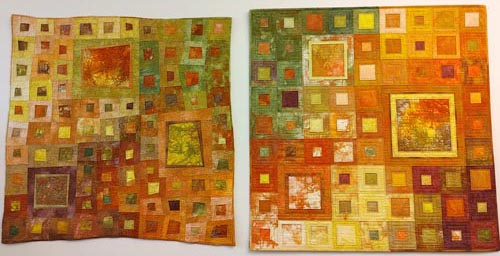 Spice Islands
by Bonny Brewer and Janet Kurjan