Departmental Travel Awards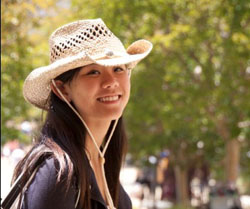 Sonia Ting Travel Award
Created in memory of former Genome Sciences graduate student Sonia Ting (Ph.D. 2016). This fund supports graduate students in the Department of Genome Sciences to travel and present their research at scientific meetings.
2023 awardees:

Chris McGann | Schweppe Lab

Miranda Mudge | Nunn Lab
Elena Romero | Feder Lab
Genome Sciences Travel Award
2019
In our first application cycle, the Department has funded travel awards to 3 graduate students – Melissa Chiasson, Claudia Espinoza and Colby Samstag – and one postdoc, Jed Carlson. The awards are funded by income to the Department from endowments established by Genome Sciences faculty and are to encourage professional development.
Melissa Chiasson (Fowler Lab): 6th International Mammalian Biology Workshop
Melissa's research uses massively parallel assays to understand how mutations in genes involved in drug response, called pharmacogenes, affect protein function. The goal for attending this workshop is to showcase her graduate research and discuss project ideas with current leaders in the field and to engage with potential postdoctoral fellowship advisors.

Claudia Espinoza (Berg Lab): 60th Annual Drosophila Research Conference
Claudia will use this conference to present her work to the community and to gain feedback. She will also profit from the opportunity to learn more about two cellular pathways in Drosophila that she is about to explore: planar cell polarity and translational regulation of actin-modifying proteins.

Colby Samstag (Pallanck Lab): UW NeuroHackademy
Colby plans on transitioning into neuroscience and this two-week course will provide him with some of the skills needed for him to be successful in his postdoctoral studies. The course will also help Colby narrow his focus in neuroscience. In particular, he hopes to find a lab that uses both computation and experimentation so he can continue to advance his computational skills.
Jed Carlson (Harris Lab):  Biology of Genomes
Jed has used topic modeling to study how human genetics papers are discussed and disseminated on Twitter, showing how research tends to spread from communities of scientists into lay communities. Biology of Genomes is the ideal conference for Jed to present this work because it is a small meeting that attracts a broad range of leading geneticists.