Research
News
Caryl Roman



The Conserved PFT1 Tandem Repeat is Crucial for Proper Flowering in Arabidopsis thaliana
Pauline Rival, Max Press, Jacob Bale, and Tanya Grancharova are authors on paper in Genetics.


The overdue promise of short tandem repeat variation for heritability
Max Press and Keisha Carlson are authors on paper in Trends in Genetics.

The modENCODE consortium consisting of multiple labs across the globe published 5 papers in Nature this past week accompanied by 15 additional papers in Genome Research, Genome Biology and Proc. Nat. Acad. Sci. USA. These papers present the progress made in defining the functional elements in C. elegans and D. melanogaster over the past 5 years. The three Nature research letters compare the features found in fly and worm with those of human, delineating conserved features of the transcriptome (Gerstein et al.), regulatory factor binding (Boyle et al.) and chromatin (Ho et al.). The two Nature articles describe the Drosophila transcriptome and the C. elegans regulatory landscape.
New York Times | Nature | NHGRI

Study of Jewish Women Shows Link to Cancer Without Family History
New York Times

Saturation editing of genomic regions by multiplex homology-directed repair
Greg Findlay and Evan Boyle are lead authors on paper in Nature.



Mapping the Inner Workings of the Microbiome: Genomic- and Metagenomic-Based Study of Metabolism and Metabolic Interactions in the Human Microbiome
Ohad Manor, Roie Levy, and Elhanan Borenstein are authors on paper in Cell Metabolism.


Comparative Analysis of Functional Metagenomic Annotation and the Mappability of Short Reads
Rogan Carr and Elhanan Borenstein are authors on paper in PLOS One.






Primate evolution of the recombination regulator PRDM9
Jerrod Schwartz, David J. Roach, Jim Thomas and Jay Shendure are authors on paper in Nature Communications.




Emergent Biosynthetic Capacity in Simple Microbial Communities
Hsuan-Chao Chiu, Roie Levy, and Elhanan Borenstein are authors on paper in PLOS Computational Biology.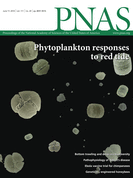 Metabolomics and proteomics reveal impacts of chemically mediated competition on marine plankton
MacCoss Lab member and GS Research Professor Brook Nunn is author on paper in PNAS. (cover design by MacCoss Lab intern Yuval Boss)



Computing exact p-values for a cross-correlation shotgun
proteomics score function
Jeff Howbert and Bill Noble are authors on paper in Molecular & Cellular Proteomics.



The Dynamics of Diverse Segmental Amplifications in Populations of Saccharomyces cerevisiae Adapting to Strong Selection
Dunham Lab member Celia Payen is lead author on paper in G3: Genes, Genomes, Genetics




Species-Level Deconvolution of Metagenome Assemblies with Hi-C-Based Contact Probability Maps
Josh Burton, Ivan Liachko, Maitreya Dunham, and Jay Shendure are authors on paper in G3: Genes, Genomes, Genetics


Three-dimensional modeling of the P. falciparum genome during the erythrocytic cycle reveals a strong connection between genome architecture and gene expression
Noble Lab member Ferhat Ay is lead author on paper modeling the dynamic genome architecture of a malarial parasite in Genome Research.


An autonomously replicating sequence for use in a wide range of budding yeasts
Dunham Lab members Ivan Liachko and Maitreya Dunham are authors on paper in FEMS Yeast Research.


GC-Rich DNA Elements Enable Replication Origin Activity in the Methylotrophic Yeast Pichia pastoris
Dunham Lab member Ivan Liachko is lead author on paper in PLOS Genetics, along with GS co-authors Kerry Bubb, Christine Queitsch, Bonny Brewer, M.K. Raghuraman, and Maitreya Dunham.



Rif1 controls DNA replication by directing Protein Phosphatase 1 to reverse Cdc7-mediated phosphorylation of the MCM complex
Brewer-Raghuraman Lab members Gina Alvino, Bonny Brewer, and M.K. Raghuraman are authors on paper in Genes and Development.




A Higher Mutational Burden in Females Supports a "Female Protective Model" in Neurodevelopmental Disorders
Eichler Lab members Sebastien Jacquemont (visiting scientist), Brad Coe (postdoc), Nik Krumm and Michael Duyzend (graduate students) are authors on paper in American Journal of Human Genetics
AJHG | The Economist | BBC

Dr. Douglas Fowler has received a 2014 Alzheimer's Association New Investigator award.

Dr. Mary-Claire King has been awarded the Lasker~Koshland
Special Achievement Award in Medical Science.
NY Times | Forbes | UW Today

Grad Cecilia Noecker has been awarded an IGERT Big Data fellowship.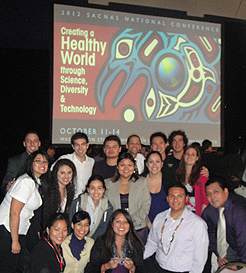 The UW SACNAS chapter has received the 2014 Graduate Chapter of the Year award.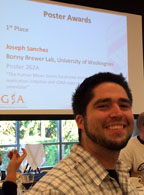 Grad Joe Sanchez won first place for his poster "The human Meier-Gorlin Syndrome mutation in ORC4 reduces replication initiation and rDNA copy number in Saccharomyces cerevisiae", at the Yeast Genetics Meeting of the Genetics Society of America. Drs. Judit Villen, Lea Starita, and Celia Payen, along with grad Jenny Andrie, gave talks during the plenary session.

Dr. Jay Shendure has been awarded the 2014 HudsonAlpha Life Sciences Prize.

Andrew Adey has received the 2014 Distinguished Dissertation Award from the University of Washington.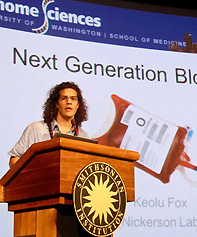 GS grad Keolu Fox gave a talk, "Indigenomics: Next Generation Blood Typing", at the symposium: "A Spectrum of Perspectives: Native Peoples and Genetic Research", cosponsored by the Smithsonian Institute, NHGRI's Smithsonian exhibit "Genome: Unlocking life's code", and the National Congress of American Indians.

GS grad Michael Duyzend has been awarded an F30 predoctoral fellowship from NIMH.

Lessons From the Woman Who Discovered the BRCA Cancer Gene
Dr. Mary-Claire King's interview with Time magazine

Dr. Jay Shendure's interview with Cell magazine is available via their 40 under 40 list.

Dr. Mary-Claire King will be the commencement speaker at, and receive an honorary degree from, the Medical College of Wisconsin.

Dr. Benjamin Hall has been elected to the National Academy of Sciences.

The Department of Genome Sciences is excited to welcome Dr. Cole Trapnell as its newest Assistant Professor Faculty member, beginning July 1, 2014. Dr. Trapnell studies stem cells and differentiation, primarily using high throughput transcriptome sequencing.  He comes to UW from a postdoc at John Rinn's lab at Harvard and before that, earning his Ph.D. in Computer Science from the University of Maryland, College Park working with both Steven Salzberg and Lior Pachter.
Introducing the incoming graduate class of 2014:
Clara Amorosi, Harvey Mudd College
Max Dougherty, UW Medical Scientist Training Program
Claudia Espinoza, University of New Mexico
Greg Findlay, UW Medical Scientist Training Program
Molly Gasperini, University of Washington
Andrew Hill, University of Washington
Emily Killingbeck, University of California, Berkeley
Jason Klein, UW Medical Scientist Training Program
John Lazar, UW Medical Scientist Training Program
Serena Liu, Dartmouth College
Heather Machkovech, UW Medical Scientist Training Program
Damon May, Yale University, University of Washington
Lindsay Pino, Penn State University
Hannah Pliner, Georgetown University
Brian Searle, Reed College
Aaron Wolf, Oberlin College
Katherine Xue, Harvard University

The University of Washington has been ranked #3 in Genetics / Genomics / Bioinformatics graduate programs by US News and World Report.

Dr. Judit Villen has been awarded the Robert J. Cotter New Investigator Award from the US Human Proteome Organization.



Grads Ethan Ahler (Fowler Lab), Michael Dorrity (Queitsch Lab), and Seungsoo Kim (rotation) have been awarded NSF fellowships as have incoming grads Molly Gasperini and Katherine Xue. Anne Clark, Tim Durham, Kelsey Lynch, and Cecilia Noecker received honorable mention.

Postdoctoral fellow Barbara Taskinen (Fowler Lab) has been awarded a two year fellowship from the Finnish Culture Foundation. She will be working on applying high-throughput sequencing to experimental protein evolution.

GS grad Benjamin Vernot has been awarded the Walter Fitch prize from the Society for Molecular Biology & Evolution.

Andrew Stergachis and Andrew Adey have received the Harold M. Weintraub Graduate Student Award for outstanding achievement in graduate studies.
Caryl Roman

Genome Sciences was sad to learn of the death of Caryl Roman last week. Caryl was the widow of Herschel Roman, the founding chair of the Department of Genetics, one of the two departments that merged to form Genome Sciences. Caryl was born in 1918 and came to Seattle in 1942. She was a sweet, kind and gracious woman who played a large role in bringing people together in Genetics during the more than two decades that Herschel was the chair. Caryl hosted many gatherings of students and faculty held at the Romans' home each year, events that contributed to the collegiality and affection that members of the department shared with each other. Those fortunate to have known her will miss her greatly. In lieu of flowers, her family asks that donations may be made to the Herschel and Caryl Roman Undergraduate Scholarship Fund at the UW, the Seattle Public Library Foundation or Northwest Harvest.
Quick Links