Research
News
Defenses
Graduate Program

Resolving the complexity of the human genome using single-molecule sequencing
Mark Chaisson is lead author on paper in Nature.
Nature | Business Standard | Nature News

The Top 100 Papers
Joe Felsenstein's research is included in Nature's list of the most-cited research of all time.

The contribution of de novo coding mutations to autism spectrum disorder
Former and current Genome Sciences trainees Brian O'Roak (shared first author), Nik Krumm and Holly Stessman are authors on a paper in Nature.
Nature | Newsweek | NBC News | Time

Palindromic GOLGA8 core duplicons promote chromosome 15q13.3 microdeletion and evolutionary instability
Megan Dennis is lead author on paper in Nature Genetics.

Heritable variation of mRNA decay rates in yeast
Jenny Andrie is lead author on paper in Genome Research.

Characteristics of Neutral and Deleterious Protein-Coding Variation among Individuals and Populations
Wenqing Fu is lead author on paper in the American Journal of Human Genetics.

Refining analyses of copy number variation identifies specific genes associated with developmental delay
Brad Coe is lead author on paper in Nature Genetics.
Hsp90 promotes kinase evolution
Jennifer Lachowiec and Tzitziki Lemus are lead authors on paper in Molecular Biology and Evolution.




Mapping and Dynamics of Regulatory DNA and Transcription Factor Networks in A. thaliana
Alessandra Sullivan is lead author on paper in Cell Reports.





Ploidy-Regulated Variation in Biofilm-Related Phenotypes in Natural Isolates of Saccharomyces cerevisiae
Elyse Hope is lead author on paper in G3: Genes, Genomes, and Genetics.



The Conserved PFT1 Tandem Repeat is Crucial for Proper Flowering in Arabidopsis thaliana
Pauline Rival, Max Press, Jacob Bale, and Tanya Grancharova are authors on paper in Genetics.


The overdue promise of short tandem repeat variation for heritability
Max Press and Keisha Carlson are authors on paper in Trends in Genetics.

The modENCODE consortium consisting of multiple labs across the globe published 5 papers in Nature this past week accompanied by 15 additional papers in Genome Research, Genome Biology and Proc. Nat. Acad. Sci. USA. These papers present the progress made in defining the functional elements in C. elegans and D. melanogaster over the past 5 years. The three Nature research letters compare the features found in fly and worm with those of human, delineating conserved features of the transcriptome (Gerstein et al.), regulatory factor binding (Boyle et al.) and chromatin (Ho et al.). The two Nature articles describe the Drosophila transcriptome and the C. elegans regulatory landscape.
New York Times | Nature | NHGRI

Study of Jewish Women Shows Link to Cancer Without Family History
New York Times

Saturation editing of genomic regions by multiplex homology-directed repair
Greg Findlay and Evan Boyle are lead authors on paper in Nature.



Mapping the Inner Workings of the Microbiome: Genomic- and Metagenomic-Based Study of Metabolism and Metabolic Interactions in the Human Microbiome
Ohad Manor, Roie Levy, and Elhanan Borenstein are authors on paper in Cell Metabolism.


Comparative Analysis of Functional Metagenomic Annotation and the Mappability of Short Reads
Rogan Carr and Elhanan Borenstein are authors on paper in PLOS One.

Postdoctoral fellow Matt Maurano has been selected as a winner of the 2014 Charles J. Epstein Trainee Awards for Excellence in Human Genetics Research at the 64th annual meeting of the American Society of Human Genetics.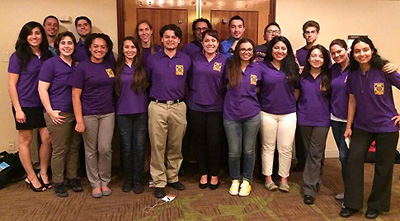 The UW SACNAS chapter has received the 2014 Graduate Chapter of the Year award.

Noted geneticist once was turned away from U.S. shores
Dr. Arno Motulsky fled Nazi Germany and became a global leader in medical genetics
UW Health Sciences News Beat


Dr. Stan Fields (senior editor) and Dr. Jay Shendure (associate editor) have been appointed to the editorial board of Genetics.

Dr. Stan Fields has been elected Vice President / President Elect of the Genetics Society of America.

Dr. Douglas Fowler has received a 2014 Alzheimer's Association New Investigator award.

Dr. Mary-Claire King has been awarded the Lasker~Koshland
Special Achievement Award in Medical Science.
NY Times | Forbes | UW Today

Genome Sciences was sad to learn of the death of Caryl Roman last week. Caryl was the widow of Herschel Roman, the founding chair of the Department of Genetics, one of the two departments that merged to form Genome Sciences. Caryl was born in 1918 and came to Seattle in 1942. She was a sweet, kind and gracious woman who played a large role in bringing people together in Genetics during the more than two decades that Herschel was the chair. Caryl hosted many gatherings of students and faculty held at the Romans' home each year, events that contributed to the collegiality and affection that members of the department shared with each other. Those fortunate to have known her will miss her greatly. In lieu of flowers, her family asks that donations may be made to the Herschel and Caryl Roman Undergraduate Scholarship Fund at the UW, the Seattle Public Library Foundation or Northwest Harvest.

Grad Cecilia Noecker has been awarded an IGERT Big Data fellowship.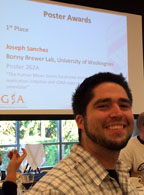 Grad Joe Sanchez won first place for his poster "The human Meier-Gorlin Syndrome mutation in ORC4 reduces replication initiation and rDNA copy number in Saccharomyces cerevisiae", at the Yeast Genetics Meeting of the Genetics Society of America. Drs. Judit Villen, Lea Starita, and Celia Payen, along with grad Jenny Andrie, gave talks during the plenary session.

Dr. Jay Shendure has been awarded the 2014 HudsonAlpha Life Sciences Prize.

Andrew Adey has received the 2014 Distinguished Dissertation Award from the University of Washington.

The Department of Genome Sciences is excited to welcome Dr. Cole Trapnell as its newest Assistant Professor. Dr. Trapnell studies stem cells and differentiation, primarily using high throughput transcriptome sequencing.  He comes to UW from a postdoc at John Rinn's lab at Harvard and before that, earning his Ph.D. in Computer Science from the University of Maryland, College Park working with both Steven Salzberg and Lior Pachter.
Upcoming Defenses

Tuesday, December 2, 2014: Joshua N. Burton (Ph.D. in Genome Sciences)
"New methods for de novo assembly of genomes and metagenomes"
2:00, Foege Auditorium

Thursday, December 4, 2014: Jeff Staples (Ph.D. in Genome Sciences)
"PRIMUS: Pedigree Reconstruction and Identification of a Maximum Unrelated Set"
12:00, Ocean Teaching Building 014

Wednesday, December 10, 2014: Alessandra Sullivan (Ph.D. in Genome Sciences)
"Mapping and Dynamics of Regulatory DNA and Transcription Factor Networks in A. thaliana"
1:30, Foege Auditorium

Wednesday, December 10, 2014: Sean Schneider (Ph.D. in Genome Sciences)
"Evolutionary analysis of viral sequences in eukaryotic genomes"
3:00, Foege Auditorium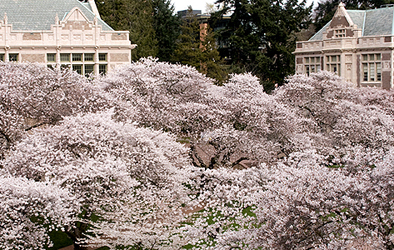 The application deadline for the Genome Sciences Ph.D. program
is December 1. Please see our application section for more information.
Quick Links
UW faculty & staff: please consider making a donation to the charity of your choice via the UW Combined Fund Drive.