Ivan Liachko has received a DeLill Nasser Award from the Genetics Society of America.

Postdoctoral fellow Matt Maurano has been selected as a winner of the 2014 Charles J. Epstein Trainee Awards for Excellence in Human Genetics Research at the 64th annual meeting of the American Society of Human Genetics.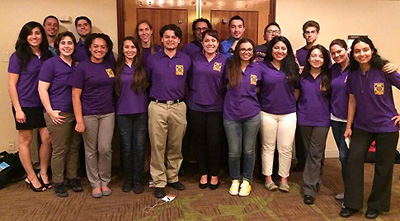 The UW SACNAS chapter has received the 2014 Graduate Chapter of the Year award.

Noted geneticist once was turned away from U.S. shores
Dr. Arno Motulsky fled Nazi Germany and became a global leader in medical genetics
UW Health Sciences News Beat


Dr. Stan Fields (senior editor) and Dr. Jay Shendure (associate editor) have been appointed to the editorial board of Genetics.

Dr. Stan Fields has been elected Vice President / President Elect of the Genetics Society of America.

Dr. Douglas Fowler has received a 2014 Alzheimer's Association New Investigator award.

Dr. Mary-Claire King has been awarded the Lasker~Koshland
Special Achievement Award in Medical Science.
NY Times | Forbes | UW Today

Genome Sciences was sad to learn of the death of Caryl Roman last week. Caryl was the widow of Herschel Roman, the founding chair of the Department of Genetics, one of the two departments that merged to form Genome Sciences. Caryl was born in 1918 and came to Seattle in 1942. She was a sweet, kind and gracious woman who played a large role in bringing people together in Genetics during the more than two decades that Herschel was the chair. Caryl hosted many gatherings of students and faculty held at the Romans' home each year, events that contributed to the collegiality and affection that members of the department shared with each other. Those fortunate to have known her will miss her greatly. In lieu of flowers, her family asks that donations may be made to the Herschel and Caryl Roman Undergraduate Scholarship Fund at the UW, the Seattle Public Library Foundation or Northwest Harvest.

Grad Cecilia Noecker has been awarded an IGERT Big Data fellowship.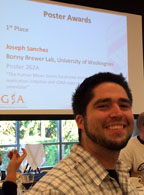 Grad Joe Sanchez won first place for his poster "The human Meier-Gorlin Syndrome mutation in ORC4 reduces replication initiation and rDNA copy number in Saccharomyces cerevisiae", at the Yeast Genetics Meeting of the Genetics Society of America. Drs. Judit Villen, Lea Starita, and Celia Payen, along with grad Jenny Andrie, gave talks during the plenary session.

Dr. Jay Shendure has been awarded the 2014 HudsonAlpha Life Sciences Prize.

Andrew Adey has received the 2014 Distinguished Dissertation Award from the University of Washington.

The Department of Genome Sciences is excited to welcome Dr. Cole Trapnell as its newest Assistant Professor. Dr. Trapnell studies stem cells and differentiation, primarily using high throughput transcriptome sequencing.  He comes to UW from a postdoc at John Rinn's lab at Harvard and before that, earning his Ph.D. in Computer Science from the University of Maryland, College Park working with both Steven Salzberg and Lior Pachter.