accepting applications for Assistant Professor position
The Department of Genome Sciences at the University of Washington School of Medicine in Seattle invites applications for a full-time faculty position at the rank of Assistant Professor, tenure-track, working in the field of proteomics, on topics such as protein composition, function, dynamics, localization or interactions. This is a 12 month, multi-year appointment with an anticipated start date of September 2019. Follow this link for more information and to apply.
An Interview with Bob Waterston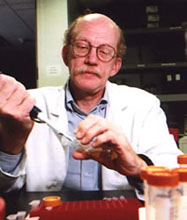 From the article appearing in UW Medicine's The Huddle:
When Bob Waterston became chair of the Department of Genome Sciences in 2002, it was a major coup for UW Medicine. As one of the pioneers in the field, he led efforts to complete the first genomic sequencing of animals, including the roundworm and mouse. His lab at Washington University in St. Louis was also central to the success of the Human Genome Project, which was completed in April 2003.
Since his arrival in Seattle, the department has gained international acclaim as a center for research and education in genetics, genomics, proteomics and computational biology. Now stepping down as chair, Dr. Waterston continues to be a member of the faculty. Dr. Stanley Fields began serving as department chair on September 1. In a recent interview, Dr. Waterston talked about his career and genome sciences. Read the interview.

Dr. Kelley Harris joined Genome Sciences in January 2018. Dr. Harris uses population genetic theory and high-throughput biological sequence analysis to study recent evolutionary history in humans and other species. Please visit her faculty page to learn more about her research.

Dr. Brian Beliveau joined Genome Sciences in September 2018. Dr. Beliveau develops and applies super-resolution microscopy methods and programmable molecular technologies to map the 3D organization of the genome in single cells. Please visit his faculty page to learn more about his research.