Research
News
Upcoming Defenses



A Natural Polymorphism in rDNA Replication Origins Links Origin Activation with Calorie Restriction and Lifespan
Liz Kwan, a former MCB graduate student in Toni Bedalov's lab at FHCRC and now a postdoctoral fellow in the Brewer/Raghuraman lab, is the lead author on a study linking lifespan in yeast with replication of the rDNA locus in PLoS Genet.


The Protein Chaperone HSP90 Can Facilitate the Divergence of Gene Duplicates
Grads Jennifer Lachowiec and Tzitziki Lemus-Vergara are lead authors on paper in Genetics.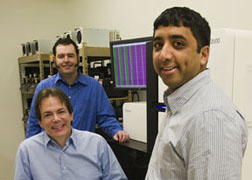 Scientists Link Gene Mutation to Autism Risk
Research from the Eichler and Shendure Labs makes USA Today's list of top ten discoveries in 2012



Prenatal genome deciphered from parents' lab tests
Shendure Lab research makes CNN list of top ten discoveries in 2012

Dr. Harmit Malik has been selected as a Howard Hughes Medical Institute Investigator.
Introducing the incoming graduate class of 2013:
Melissa Chiasson, Yale University
Anne Clark, Harvey Mudd College
Mike Doud, UW Medical Scientist Training Program
Tim Durham, Williams College
Alexander Eng, Harvey Mudd College
Seungsoo Kim, Harvard University
Colin McNally, Princeton University
Cecilia Noecker, St Olaf College
Vijay Ramani, Princeton University


Genome Sciences is now accepting applications for the Herschel Roman Undergraduate Scholarship. The application deadline is June 1.

GS grad Katrina Claw (Swanson Lab) has been awarded a Bonderman Travel Fellowship.
GS postdoc Celia Payen (Dunham Lab) has been awarded Honorable Mention for the Postdoctoral Mentoring Award given by the UW Graduate School.
The Genome Sciences IT team has received the UW Distinguished Staff Award for a Team.

MCB grad Nate Peters (Berg Lab) has been awarded second place in the graduate division, Cell and Molecular Biology, of the 2013 Student Research Showcase organized by Sigma Xi, the Scientific Research Society. He was also awarded first place in the 2013 Northwest Developmental Biology poster competition.


GS grads Rachel Gittelman (Akey Lab) and Alex Mason (Queitsch Lab) have been awarded NSF fellowships. Vanessa Gray, Elyse Hope, Rob Lawrence, and Max Libbrecht received honorable mention.

Dr. Mary-Claire King has been awarded the 2013 Paul Ehrlich Prize.

Chad Weisbrod
"Development and application of accurate mass measurements for large-scale protein interaction and proteome studies"
Wednesday, May 29, 3:00
Orin Smith Auditorium, South Lake Union
Cait Rippey
"Chimeric Genes Generated by Copy Number Variation as a Mutational Mechanism in Schizophrenia"
Thursday, May 30, 2:00
Health Sciences K-069

Alan Rubin
Friday, June 7, 1:00
Health Sciences T-439

Jacob Kitzman
Tuesday, June 18, 11:00
Foege Auditorium

Katrina Claw
Thursday, August 15, 12:30
Health Sciences K-069
Quick Links
Seminars & Events