Dr. Kelley Harris joined Genome Sciences in 2018. Dr. Harris uses population genetic theory and high-throughput biological sequence analysis to study recent evolutionary history in humans and other species. Please visit her faculty page to learn more about her research.

Genome Sciences is pleased to welcome Dr. Brian Beliveau to the department in September 2018 as our newest faculty member. Dr. Beliveau develops and applies super-resolution microscopy methods and programmable molecular technologies to map the 3D organization of the genome in single cells.
Upcoming Seminars & Events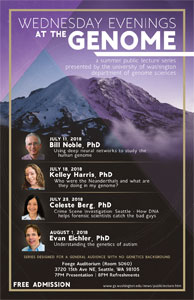 Our Public Lecture Series will take place Wednesday evenings from July 11 - August 1.