Herschel & Caryl Roman Scholarship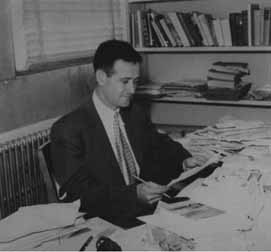 About Dr. Herschel Roman:
The Herschel and Caryl Roman Undergraduate Science Scholarship Fund provides financial assistance to deserving undergraduates at the University of Washington who have an interest in genetics research.
The Scholarship Fund was established in memory of Dr. Herschel Lewis Roman, who joined the UW faculty in 1942 and founded the Department of Genetics (now known as the Department of Genome Sciences) in 1959. By the time of his retirement in 1980, he had received international recognition for his work in chromosomal behavior and genetic recombination. With his passing in 1989, his family and friends proposed this scholarship in his honor.
To Make a Donation:
If you would like to make a donation to this scholarship fund, you may do so online via the UW Medicine website. We are grateful for your support!
About the Scholarship:
The scholarship, which provides up to a total of $2500 for the academic year, will be awarded to one or two undergraduates who demonstrate an interest in genetic research. Award amounts depend on the number of awardees selected and available funding. The selection criteria include academic achievement and aptitude. By the terms of the scholarship, the awardee will participate in genetics research for at least ten hours per week for three quarters and must continue to make satisfactory progress toward his or her degree. If the student is not already working in a lab, we can help with a lab placement.
Please note that previous scholarship recipients are not eligible to apply for a second year of funding.
To apply:
The application deadline is July 1. To apply, please send the following items to Brian Giebel (bgiebel [ a t ] uw.edu):
1. application form (Word | PDF) - if you find it easier, you are welcome to simply provided the requested information in an email instead of filling out the form.
2. a one or two page personal statement in which you discuss your interest in genetics, career goals, and any other relevant information
3. a recommendation letter from a faculty member (should be emailed directly from the faculty member to Brian)
4. your transcript (an unofficial web copy is fine)

For more information, please contact Brian Giebel at bgiebel <!nospam> [ a t ] uw.edu.
Past Scholarship Awardees: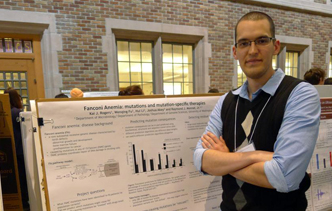 2012-13 awardee Kai Rodgers presents his work at the UW Undergraduate Research Symposium.
2022:
Varun Ananth - Noble Lab
Anna Anderson - Lieber Lab
Dylan Clark - Feder Lab
2021:
Aman Agarwal - Stergachis Lab
Matthew Cotter - G. Horwitz Lab
Annamarie Steed - Dunham Lab
Sadie Van Den Bogaerde - Starita Lab
Sunny Ye - Fowler Lab
2020:
Winston Chen - Noble Lab
Ryan Chern - Beliveau Lab
Batool Mutawe - Brewer-Raghuraman Lab
Tai Nguyen - Monnat Lab
Bill Young - Promislow Lab

2019:
Forrest Golic - Promislow Lab
Jonathan Mah - Bloom Lab
Jackson Zariski - Beliveau Lab
2018:
Zach Krieger - Fowler Lab
Dianne Cintron Laboy - Mefford Lab
Samantha Paskvan - Brewer-Raghuraman Lab
2017:
Yong-Han Hank Cheng - Doherty Lab
Kevin Felt - Bruce Lab
Bernice Lin - Berg Lab

2016:
Lucas Cary - Queitsch Lab
Liesl Strand - Berg Lab
Cynthis Wong - Malik Lab
2015:
Alice Cheng - Noble Lab
Cambria Heuston - Waterston Lab
Miriam Williamson - Fowler Lab
2014:
Noah Hanson - Dunham Lab
Kate Harrison - Hawkins Lab
Dylan Holmes - Noble Lab
2013:
Ann Bucher
Steven Lee - Brewer-Raghuraman Lab
2012:
Evan Boyle - Shendure Lab
Paul Ellenbogen - Noble Lab
Kai Rodgers - Monnat Lab
2011:
Joanne Hsu - Villen Lab
Kiana Mohajeri - Malik Lab
2010:
Molly Gasperini - King Lab
Kelsey Haas - Brewer-Raghuraman Lab
2009:
Hannah Jordt - Queitsch Lab
Anand Kaul
2008:
Jacob Bale - Queitsch Lab
Tiffany Vu - Raskind Lab
2007:
Adam Koch – Wakimoto Lab
Chris Nicolai – Stamatoyannopoulos Lab
James Thornton – Fields Lab
Lianna Wood – Sibley Lab
2006:
Janice Chen – Horwitz Lab
Jeannie Nguyen – Raskind Lab
Baswijit Paul – Chance Lab
Katherine Reinhart – Raible Lab
Cody Wyles – Braun Lab
2005:
Andrew Hemmaplardh
Lauren Surface
Stephanie Suzuki

2004:
Lesley Everett
Kirstin Wiederholt
2003:
Duangkamol Chungsiriwat
Brian Rezvani
Kwun Wah Wen
2002:
Anna Fortin
Bryan Howie
Ursula Lang
Andrea Eberly