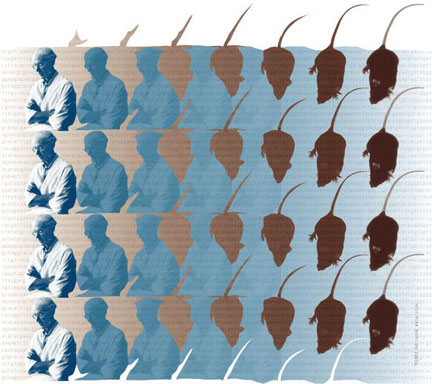 The University of Washington is committed to providing access, equal opportunity and reasonable accommodation in its services, programs, activities, education and employment for individuals with disabilities. To request disability accommodation contact the Disability Services Office at least ten days in advance at (206) 543-6450, TTY (206) 543-6452, or e-mail dso@u.washington.edu.
Return to Genome Sciences Main Page

Return to Seminars & Events Page
Session I
10:00 - Introduction by Maynard Olson
Professor of Genome Sciences and of Medicine
Director, Genome Center
University of Washington
10:15 - Allan Bradley, Ph.D.
Director, Wellcome Trust Sanger Institute
"Contemporary Approaches to Extracting Function from the Mouse Genome"
11:00 - Nancy Jenkins, Ph.D.
Senior Investigator, Mouse Cancer Genetics Program
National Cancer Institute - Frederick
"Mouse Models of Human Vesicle Transport Diseases"


Session II
1:30 - Introduction by Christine Disteche, Ph.D.
1:35 - Jeffrey Friedman, Ph.D.
Marilyn M. Simpson Professor
Howard Hughes Medical Institute
The Rockefeller University
"Leptin and the Biologic Basis of Obesity"
2:20 - David Page, Ph.D.
Howard Hughes Medical Institute
Whitehead Institute for Biomedical Research
Massachusetts Institute of Technology
"Rethinking the Rotting Y Chromosome"
3:00 – 3:25 - Break. Refreshments served in the Lobby.


Session II, continued
3:30 - Introduction by Philip Green, Ph.D.
3:35 - David Haussler, Ph.D.
Howard Hughes Medical Institute
UC Presidential Chair of Computer Science
University of California, Santa Cruz
"Bioinformatics and the Challenge of Identifying Functional Elements in the Human Genome"
4:15 - Robert H. Waterston
William Gates III Professor and Chair of Genome Sciences
University of Washington
"The Mouse Genome – A Reflection on the Human Genome"