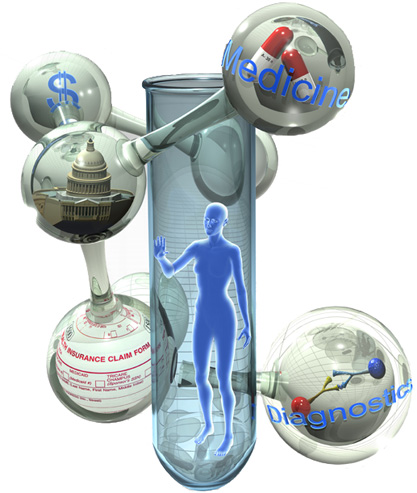 Follow this link for the panel discussion video.
Tuesday, April 6 | 7:30 p.m. - 9:00 p.m. | Kane Hall

Registration is required. Please follow this link to obtain complimentary tickets.
The Panel Discussion, co-sponsored by the School of Medicine and moderated by Jay Shendure of Genome Sciences, will be on: "New Discoveries in Medicine: Implications for the Cost and Quality of American Healthcare." The panel, which will spend its time taking questions from the audience, is composed of thought provoking leaders in healthcare and medical research:
Follow this link for information about the accompanying symposium.

Eric Larson, M.D.
Executive Director and Senior Investigator at Group Health Research Institute, Seattle

Barbara J. McNeil, M.D., Ph.D.
Professor and Head of the Department of Health Care Policy, Harvard University

Paul Ramsey, M.D.
CEO, UW Medicine, Executive Vice President for Medical Affairs and Dean of the School of Medicine, University of Washington

Roger M. Perlmutter, M.D., Ph.D.
Executive Vice President, Research and Development, Amgen Corporation, Thousand Oaks, CA

To request disability accommodations contact the Disability Services Office at least ten days in advance: 206.543.6450 V, 206.543.6452 TTY, 206.685.7264 FAX, dso@u.washington.edu