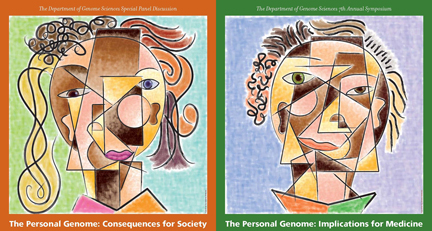 follow this link for a PDF version of the Symposium Poster
follow this link for the symposium program
Special Panel Discussion:
The Personal Genome: Consequences for Society
Wednesday, April 23, 2008
7pm – 9pm
Kane Hall, Room 130
update: as of 4/21, only overflow seating is available
Watch the live UWTV webcast of this event online at www.uwtv.org.
Please visit the UWTV website to submit a question to the panel.
reservation required - free admission
follow this link to register
Speakers:
George Church, Harvard University
Bill Gates III, Microsoft, Inc.
Eric Lander, Broad Institute
Leena Peltonen, Wellcome Trust Sanger Institute
Parking will be available in the Central Plaza Garage (click here for map).
To park in the Central Plaza Parking Garage, take a right onto 15th Avenue NE. Continue south on 15th Avenue NE until you reach NE 41st Street. The parking garage entrance will be on your left. Stop at Gate 1, pay attendant ($5.00) and park where directed. Once you have parked in the garage, find the corridor labeled "Kane Hall" (northeast corner of the garage) and take the elevator to the first floor (Kane 130)
Questions? Please email: symposium [ a t ] gs.washington.edu

The Department of Genome Sciences
7th Annual Symposium
The Personal Genome: Implications for Medicine
Thursday, April 24, 2008
10am – 6pm
Hogness Auditorium, Health Sciences A-420
no registration required
Session One (10:00am – 11:50am)
Welcome by Dr. Robert Waterston
Eric Lander, Ph.D.
Broad Institute of MIT and Harvard
"Beyond the Human Genome Project"

David Haussler, Ph.D.
University of California, Santa Cruz, Howard Hughes Medical Institute
"Using Genomes to Explore How We Became Human"
Lunch Break (12:00pm – 1:30pm)
Session Two (1:30pm – 3:15pm)
George Church, Ph.D.
Harvard Medical School
"Interpretable, Affordable Personal Genomics"
Leena Peltonen, M.D., Ph.D.
Wellcome Trust Sanger Institute, Institute for Molecular Medicine Finland,
Broad Institute of MIT and Harvard
"Drafting genome wide profiles of our diseases"

Break (3:15pm – 3:45pm)
Session Three (3:45pm – 5:45pm)
Richard Lifton, M.D., Ph.D.
Yale University, Howard Hughes Medical Institute
"Human Hypertension: From Rare Diseases to Common Pathways and New Therapeutics"

Nancy Wexler, Ph.D.
Columbia University, Hereditary Disease Foundation
"When Personal is Really Personal"
Closing remarks by Robert Waterston, M.D., Ph.D.
William H. Gates III Endowed Chair in Biomedical Sciences and Genome Sciences Department Chair
Questions? Please email: symposium [ a t ] gs.washington.edu