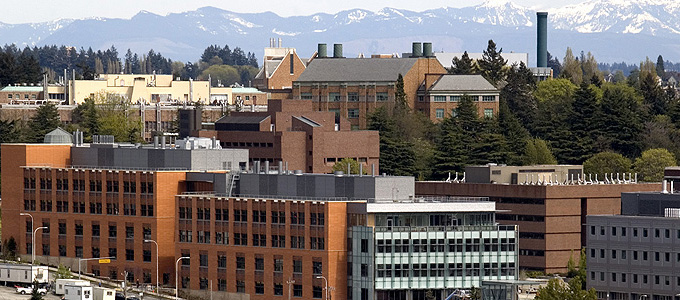 The Department of Genome Sciences began in September 2001 by the fusion of the Departments of Genetics and Molecular Biotechnology.
Our goal is to address leading edge questions in biology and medicine by developing and applying genetic, genomic and computational approaches that take advantage of genomic information now available for humans, model organisms and a host of other species. Our faculty study a broad range of topics, including the genetics of E. coli, yeast, C. elegans, Drosophila, and mouse; human and medical genetics; mathematical, statistical and computer methods for analyzing genomes, and theoretical and evolutionary genetics; and genome-wide studies by such approaches as sequencing, transcriptional and translational analysis, polymorphism detection and identification of protein interactions.
Our chair, Dr. Robert Waterston, joined the department in January 2003. Our department includes both faculty with primary appointments in Genome Sciences, as well as adjuncts in other departments and Seattle institutions. Eleven faculty are members of the National Academy of Sciences, including 2001 Nobel Prize winner Dr. Lee Hartwell, who conducted much of his groundbreaking work in the Department of Genetics. Five training faculty are Howard Hughes Medical Institute Investigators. Graduate research in the Department leads to a Ph.D. in Genome Sciences and students may also choose to participate in the Computational Molecular Biology or Molecular Medicine programs. Our department has approximately 60 graduate students and has moved into the new William H. Foege Building.
For more information, please see the Department of Genome Sciences website.