As is usually the case, the death of a friend brings back a flood of fond memories, and Don's death has served that purpose for me. Many times recently I have wondered how he was. We had heard that he'd been ill. I thought of trying to get in touch with him although that was never easy. As far as I knew, he had no phone, and I had never known his address, although I had visited his apartment at various times, always driven there by himself. I think that this expressed his desire for privacy and independence, perhaps similar to my own.
Don's and my association began in the 1950s soon after Herschell Roman told me about Don's work on genetic mapping. At that time he was doing a post doc with Sterling Emmerson at Cal Tech. following completion of his graduate work at the U of W with Howard Douglas.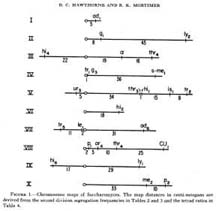 I was working at U.C. Berkeley isolating mutants in Saccharomyces cerevisiae and had inadvertently found a number of linkages between pairs of genes, and between genes and centromeres, which I thought could complement Don's work. I soon arranged a trip to Cal Tech to see Don. This was the beginning of our lengthy collaboration and 50 year friendship maintained through many meetings at Seattle, Berkeley, Italy and elsewhere during which we pursued our scientific, as well, as recreational interests.

After Don's return to Seattle, he resumed using his DeFonbrune micromanipulator and I brought a micromanipulator from Berkeley which had been designed by my mentor, Cornelius Tobias. For the next several years, we continued dissecting asci, making crosses and analyzing linkage data which provided the basis for the first yeast map which was published in "Genetics" in 1960. It is my view that this paper really helped establish the field of yeast genetics.

Up until this time, Winge and his work on genes which controlled

fermentation, and Lindegren whose work on neurospora he had transferred to his new interest in yeast, were pioneers in the field. Winge's work and publications were so complex that few people understood them. Lindegren's early work on neurospora was sound. But in his work on yeast, he tried to show that yeast didn't obey the rules of genetics--a mistaken idea! The field was ripe for our 1960 publication which showed that yeast obeyed the basic rules of genetics and thereby established a firm basis for the explosion of yeast genetics which soon followed.

Over the following ten years, we continued expanding the map, eventually publishing three more editions and a review of yeast genetics. At this point Don's interest turned elsewhere and I continued with other collaborators through edition XII.

Don's extremely careful and thorough lab techniques and his ability to hand-write almost final text facilitated a smooth and enjoyable collaboration.

However, our association was not all science. During my many trips to Seattle, he was a gracious host. I enjoyed touring the area in his various Triumphs, mushroom hunting, several fly fishing trips, visits to the family home in Olympia, and meeting some of his family. Not only did our work complement each other's but our personalities and recreational interests followed similar lines. We had many hours of quiet, comfortable companionship, whether in the laboratory or tramping the foggy, soggy undergrowth of the coastal hills north of San Fransisco hunting for mushrooms. One of our most exciting finds was a large Amanita clyptoderma, supposed to be edible, but being geneticists we were worried that it might have been a product of a cross between the edible and a deadly poisonous species. We knew of a fireman in the next town, who was reputed to be a mushroom authority, so we drove there. As we entered the fire station, he came toward us and upon seeing our mushroom, even from afar, he pointed to it and exclaimed in a large voice "That's a good one!" We took it back to our family cabin, ate it for supper and survived!

During his many trips to Berkeley, we also enjoyed tours of the wine country and Monterey area. One of our last adventures was touring the countryside and hill towns in Tuscany in his newest Triumph which he had driven down from Gif-sur-Yvette to Florence, where I was doing research on wine yeast at the Department of Genetics.

This reminds me of a little story of a later trip that he made to Florence by train. I went to the station to meet him at the appointed track and time. After everyone had exited the train, I waited for several minutes, then returned to my apartment wondering what had happened to him. The next day, he appeared at the Genetics Department at the University of Florence. He had been on the train, but apparently was in no hurry to get off. When he didn't find me at the station he took a taxi to the apartment, but couldn't find the apartment number, so went to a nearby hotel. This was typical of Don.